Story of Our Name and Brand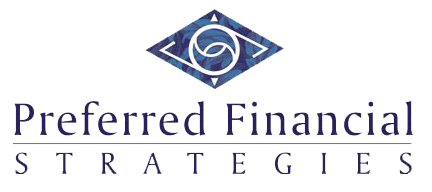 OUR GOAL: When Preferred Financial Strategies determined how it wanted to be perceived over the next 25 years, it was concluded that our desire is to be the first choice as a trusted and preferred financial specialist to those looking to retire, relocate into the area or seeking greater financial independence for their family and those of generations to come. Serving as a point of contact for all aspects of financial health and wealth to individuals and small businesses with less than 25 employees is our ultimate purpose in order to help each client we serve realize greater financial independence, enjoyment and reward through comprehensive strategies developed with the unique perspective and desires of each client in mind.
ABOUT OUR POSITIONING: generations of trust … decades of knowledge … since 1979. We believe, these aspects to be a particular combination of qualifications that distinguished Sara and her firm compared to others. Creating a positioning statement that strives to provide trust through generations, comprehensive expertise and longevity in the business was captured in these eight words succinctly and effectively. The ability to serve families for generations, we believe, stems from a trust that these clients exhibit in handing their financial matters over to Sara and seek to grow in a long-term relationship that is expected to span decades. The value we place on relationships is as strong as that of the firm.
WHY PREFERRED FINANCIAL STRATEGIES? Two key words we believe dominate the description of what Sara brings to her company … preference and comprehensive strategy. Bringing quality options, helping clients understand and realize what is in their best financial interest; developing strategies that deal with the here and now as well as years in the future were all elements that we feel can be cited as reasons for preferring and referring Sara over other firms and individuals. After extensive exploration of a multitude of name options, Preferred Financial Strategies was the final result.
WHY THE MULTI-FACETED SYMBOL? Financial services that are strategic and uniquely designed for an individual or business' specific circumstances and short-term/long-term goals are complex. It dictates a professional with a watchful eye, open-mindedness to consider all possible options, compassion and consideration for life's challenges that can throw a financial curve, a focus on the dynamics of family and business, flexibility to adapt to change, a connectedness with resources and solutions, to name a few. The symbol was developed to speak to each individual that sees it with personal meaning.
WHY A DIFFERENT DOMAIN NAME? Sometimes being denied the most obvious choice can result in the ultimate and ideal solution, and can also be a blessing in disguise. When researching the web for securing the domain name of Preferred Financial Strategies, a portion of the name itself had been taken. Instead, building off of what the firm desires to accomplish for its clients was explored in a domain name to further build upon the branding of the company and its offerings. The result was www.FinancialStrategiesForLife.com. All other extensions were also secured.