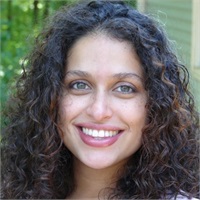 Meet Michelle Daniel, our new Registered Assistant!

Michelle joined Sara's team in August 2020 and has been in the financial industry since 2015.  She began her financial career as a Paraplanning Intern at Opus Financial Advisors before going on to work for corporate firms Fidelity and Morgan Stanley.  Michelle now performs a wide range of administrative and operational support duties for Opus Financial Advisors and for Sara's team and client base. She provides exceptional customer service and a deep technology competency.
She is essential to our greater firm's organization, efficiency, and long-term vision. 
Michelle speaks fluent Spanish and is excited about bringing financial literacy resources to community residents that speak English as a second language.
Originally from New England, Michelle is a Tar Heel by marriage and enjoys spending time with her husband and 4 children.  She particularly appreciates heading outdoors with the family in search of adventure and is waiting with bated breath for Marvel's next big hit.
She holds a BS in Organizational Management and Project Management, Colorado Christian University.